Nano Wallets & Mastodon Crypto Sending with Cake Wallet 4.10.0
October 10, 2023 ·

3 min read
It's never been easier to get into crypto! Monero.com v1.6.1 fixes Monero coin control and additionally, Cake Wallet 4.9.1 includes bug fixes for Ethereum Robinhood Connect, so you can instantly purchase coins; piece of cake.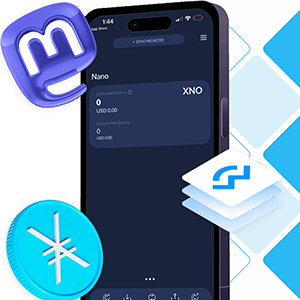 Cake Wallet Updates
Continuing our mission to make Crypto easier to use every day, we are excited to talk about the newest updates to Cake Wallet.
1. Introducing Nano Wallet Integration: Lightning-Fast Transactions Await!
We're proud to announce the addition of Nano Wallet to our platform. Nano, known for its instant and fee-less transactions, adds a new dimension to our wallet offerings. With Nano, you can enjoy lightning-fast transactions, making your crypto journey even more efficient.
2. Seamless Connection with WalletConnect: Bridge Your ETH Wallet to Your Favorite dApp
Ever wished for a hassle-free way to connect your Ethereum wallet to your preferred decentralized application (dApp)? Your wish is granted! We've integrated WalletConnect, allowing you to seamlessly bridge your ETH wallet with your favorite dApp. No more copy-pasting addresses or dealing with complex configurations – it's all about simplicity and efficiency.
3. ENS and Mastodon Support: Say Goodbye to Cryptic Addresses
Managing long, alphanumeric crypto addresses can be a hassle. We understand, and that's why we're introducing support for getting addresses from Ethereum Name Service (ENS) and Mastodon. Now, you can use human-readable names to send and receive funds. Bye-bye cryptic addresses, hello simplicity!
4. Bug Fixes: A More Stable and Secure Experience
We believe in continuous improvement, and that includes addressing any bugs that might hinder your experience. Our team has been hard at work identifying and fixing issues to ensure a more stable and secure platform. Your peace of mind is our priority.
5. Minor Enhancements: Polishing the User Experience
It's the little things that count. We've made minor enhancements across the platform to improve the overall user experience. From smoother navigation to enhanced visuals, these tweaks aim to make your time with us more enjoyable.
Monero.com Specific Update
Removal from Google Play Store: Regrettably, the Monero Wallet App has been removed from the Google Play Store due to its perceived similarity to Cake Wallet. While we are appealing this decision, we want to ensure that our users have continued access to the app during this process.
Download Options: For the time being, you can still download the Monero Wallet App through alternative means. The .apk file is available for direct download, or you can use Fdroid, a trusted repository for free and open-source Android apps.
We're excited about these updates and the positive impact they will have on your crypto journey. As always, we value your feedback, so feel free to explore the new features and let us know your thoughts. Here's to a future of seamless transactions, enhanced connectivity, and a more user-friendly crypto experience!
Have fun.
The Cake Wallet Team